Growing cacti
Most cactus genera are easy to grow. When you choose which genus you shall grow you should have this in mind:

Sunlight
Winter temperature (winter rest)

Some cacti needs a lot of sunlight to develop their beautiful spines and body form. A plant that does not get much light grow fast, have a light, grassgreen body and gets cylindrical in shape. The spines are weak and and thin. I guess 95% of all cacti like much light, but there are also plants that does not like direct sunlight, for example the epiphytic cacti (Epiphyllum, Heliocereus, Selenicereus, Rhipsalis etc). They prefer a more shaded place and could be ideal plants for indoor growing. Gymnocalycium, Notocactus and Mammillaria are other genera that you could try even if you do not have a greenhouse and perfect conditions for growing cacti.

The winter rest is another very important thing. Almost all cacti need a cold winter rest to set flowers. Some cannot take temperatures below 10 C, other like it best around 5 C and some prefer sleeping under a snow cover!

Some genera that you could have indoors during winter (ca 15-20 C):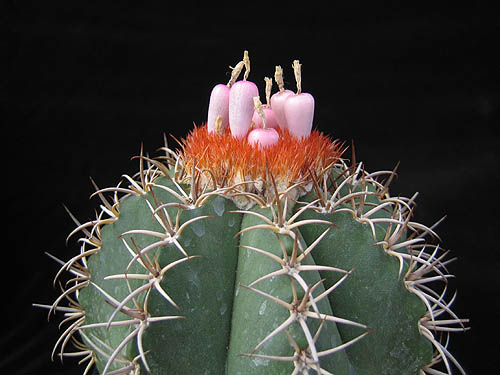 Arrojadoa
Melocactus
Discocactus
Monvillea
Micranthocereus
Pilosocereus
Pierrebraunia
Buiningia
Monvillea
Cereus
Epiphytic cacti (Rhipsalis, Schlumbergera, Hatiora, Epiphyllum etc)

Other succulents like Euphorbia, Adenium, Pachypodium etc.

Some that could flower when kept at ca 12-15 C:

Astrophytum
Mammillaria
Notocactus
Frailea
Gymnocalycium
Echinopsis
Monvillea

Genera that need 5 - 10 C to flower: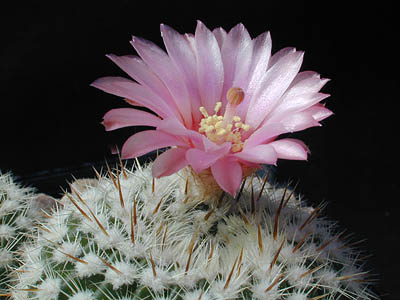 Lobivia
Rebutia (Aylostera, Mediolobivia etc)
Sulcorebutia
Weingartia
Neowerdermannia
Tephrocactus, Maihueniopsis, Maihuenia, Pterocactus etc.

In general I grow my cacti and succulents like this:
Soil:
All my plants are planted in plastic square pots in a well drainaged soil mixture.
I use following ingredients:
1/4 cactus compost (as bought in most nurseries or flower shops).

1/4 Perlite and pumice mix

1/4 Lava grit

1/4 Leca grit (burned clay) or sand
Lava and Pumice grit is difficult to find here in Sweden, so you can also use a more simple mixture:
I also use a top-dressing which is a layer of grit on top of the compost and around the neck of the plant. This prevents the soil washing up around the plant as well as it stop too-rapid drying out. It also looks much nicer!
Water and feeding: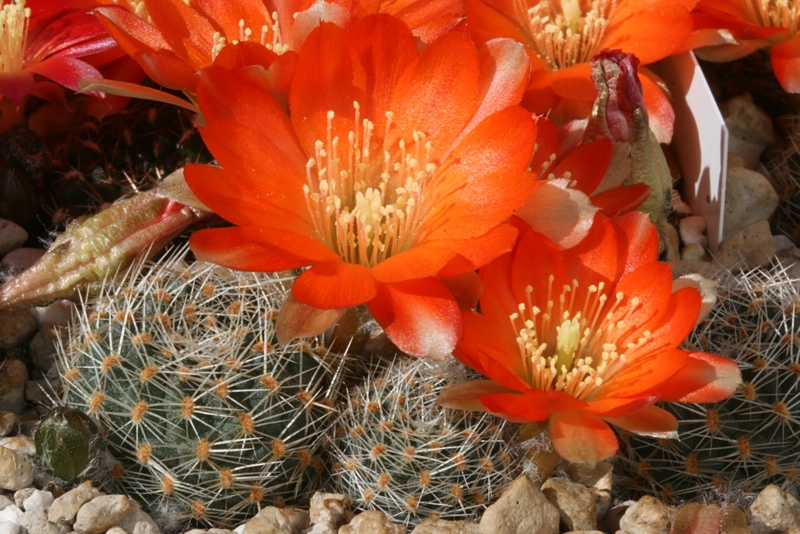 If you can, use rain water instead of the often too hard tap water. Most cacti prefer a pH around 5 - 6,5. If you use tap water, never take it directly from the tap - give it at least room temperature before watering the plants.
Feeding is given every time I water, except the first time in early spring. As feeding I use "Blomstra", a well known fertiliser here in Sweden, not only used for cacti but for all kind of plants. I use the half recommended rate when feeding my cacti.
The first watering is done in mid April if the weather is good enough. From June til August I try to give the plants water once a week, but usually this means every second week! In this way they will keep their natural appearence instead of growing up to ugly green clumps.
In September and October I give water two or three times if there is much sun, in October only once or twice.
Seedlings must be watered more often, somtimes every second day, as they usually grows very tight together in lower trays which dries out more quickly.
Winter care:
From October to April in a heated greenhouse with the temperature laying around 5-10 ° C. No water is given for five-six months.
Most Lobivia and Rebutia species can resist very low temperatures. I have seen Lobivia and Rebutia species growing near frozen springs with their spines covered by frost. The low temperatures are often only during a very short period, during the night. I can therefore not recommend you to grow them for several months below zero as this could damage them.
My cactus growing year
MONTH

:

ACTIVITIES:

January

Winter rest. This is a good time to start sowing seeds if you live in the northern hemisphere. No water is given, and the temperature in the greenhouse is ca + 5 C. Even one year old seedlings is kept this way.

February

Plants still asleep.

March

First buds seen on Rebutia, Turbinicarpus, Mammillaria etc. The temperature is now higher when sun is up. No water given yet! Good time to repot mature plants and seedlings.

April

One or two plants in flower. Mostly Turbinicarpus or Mammillaria. Some seedlings may have some water in early April if the weather is good, rest of the plants in late April.

May

The first Rebutia start to flower! R. leucanthema and R. pygmaea v. pallida are always first! Water is given every second week if it is warm and sunny.

June

Hundred of cacti in flower! Protect seedlings from direct sunlight!

July

Lobivia

, Echinopsis usually flower now. I start to harvest the fruits of some Rebutia.

August

Less and less flowers. A lot of seeds to collect and clean.

September

Just a few in flower. Mostly Parodia or Eriosyce.

October

Last watering in late October. Mesembs in flower (Lithops, Faucaria etc)

November

Winter rest starts (+5-10 C). No more water!

December

Winter rest. The darkest month of the year, only a few hours daylight.